In order to prevent the COVID-19 disease from spreading we have taken the following measures:
1) Rentals (scooters / bicycles) are cleaned before renting and upon returning to our shop.
2) Customers are encouraged to reduce waiting time in our shop by filling in our reservation form. This will ensure that your rental agreement will be ready upon arrival.
In case your travel plans are cancelled due to the COVID-19 virus, you can change your reservation without additional costs.
MERIDA Deluxe Mountainbike hardtail BIG NINE 29" wheels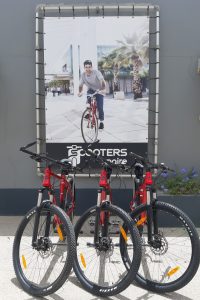 Available in frame sizes S,M,L,XL and XXL
For the one who loves an extra challenge!
With tubeless tires, bar ends, suspension fork, duo pedals (ordinary and SPD), pump, saddlebag, double bottle holders
Rates per day: USD 22,50, or per week: USD 135 (7 days = pay 6).
Deposit of USD 300 on Mastercard / VISA. A cash deposit or IBAN wire transfer is also possible. The theft insurance (6 USD per day) is mandatory in case of a cash deposit or IBAN wire transfer.
Service: we pick you up for free if you rent 3 days or more. Our pick-up service is available Monday-Friday 09:00-16:00 hours (weekends by appointment). Please request this service on your reservation form.